Harness Your Coaching Skills to Create Transformational Presentations
June 2, 2021 @ 1:00 pm

-

2:00 pm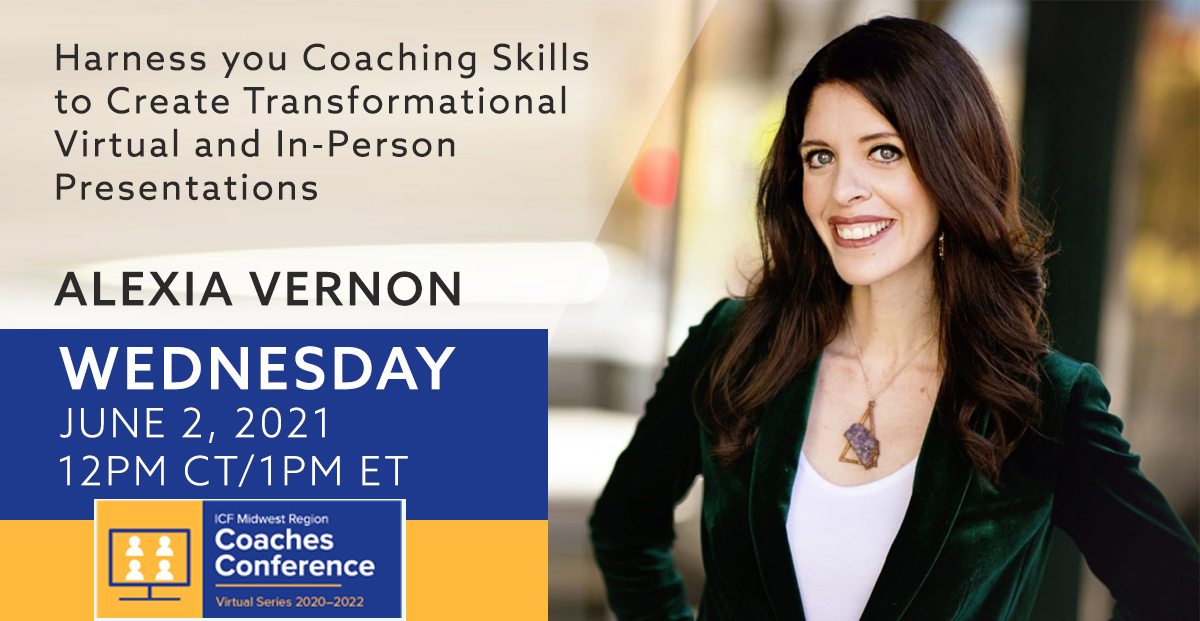 Participants will earn 1 Resource Development CCE for attending this webinar
While public speaking is one of the most effective ways to attract the right clients to your business, position yourself as a thought leader, and make big impact in the world, most coaches who speak are following tired formulas for how to present (and sell) and are positioning themselves as experts at the expense of showing off their coaching skills. In this dynamic, interactive presentation designed specifically for coaches, Alexia Vernon will show attendees how to create presentations that provide audience members with a rich coaching experience, how to use core coaching competencies when inviting audience members into ongoing work, and how to overcome discomfort with visibility and owning a powerful point of view.
Participants will be able to:
Develop presentations that demonstrate their coaching acumen and create breakthroughs for audience members
Integrate the core coaching competencies of creating intimacy and trust, coaching presence, creating awareness, direct communication, and powerful questioning into their speaking
Sculpt and deliver powerful calls to action that guide raving fans into individual and organizational coaching clients
Alexia Vernon, ACC is the author of Step into Your Moxie: Amplify Your Voice, Visibility, and Influence in the World. Branded a "Moxie Maven" by President Obama's White House Office of Public Engagement for her unique and effective approach to communication and leadership development.