Future Leadership: To Be a Voice, Not an Echo
May 11 @ 12:00 pm

-

1:00 pm

Free – $25.00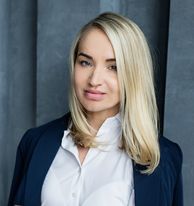 CCEs: 1.0 Resource
"I am not what happened to me. I am who I choose to be." These words became my mantra when the most terrible thing in my life occurred – a brutal war where countless people perished. During this war, my family lost two loved ones: a young 25-year-old nephew, who was killed by Russian soldiers, and the grandfather of my sons, who passed away due to a broken heart.
Despite the devastation, I managed to save my children's lives and create a new reality for them in Germany, starting life from scratch in a new country. Through the pain and suffering, I underwent my own rebirth and became a source of support for others. As a coach, I took responsibility in my profession and became the fourth President of ICF Ukraine. Leading during wartime was challenging, and I had no prior experience to rely on.
In this webinar, I will share my leadership journey, from losing everything in one day due to war to becoming the leader of a global professional organization in just eight months. I will discuss how I not only preserved the organization during wartime but also developed it, supported colleagues, helped them grow, and implemented significant social projects for Ukrainian leaders. Join me to hear about my story of resilience, leadership, and hope in the face of adversity.
Learning objectives are:
The organization is a mirror of the leader's personality. What should be the leader of the future?
The scale of the organization and projects is the scale of the leader's mind: 5 tips for effective leadership in conditions of complete uncertainty.
Leader identity map. How to combine the spiritual and social goals of a leader? Author's model.
Outcomes for attendees are: 
Participants will understand that the greatest challenges in life bring growth and development.
Participants will be convinced that big catastrophes in a person's life make a request not for transformation, but for transition. How is transformation different from transition?
Participants will understand how to develop their potential to hear their true voice. How to sound with your own voice, and not be a repeater of other people's thoughts and worldview?
Speaker: 
Alina Sviatnenko, PCC.   Executive coach | PCC ICF | Entrepreneur | Co-founder TED Coaching Agency | L&D advisor|   Master's degree – in Economics (2007, Kyiv).
My expertise: Development of leadership competencies, Adaptation in a period of change, Emotional development intelligence, work with fears and resistances, Work with beliefs and ineffective models behavior, Support during a crisis, crisis counseling, Preparing HiPo for management positions.
As executive coach, I am a partner for leaders and management teams in development high-performing cultures that fuel business growth having 15 years leadership experience in local and international companies (managerial financial positions). I help leaders to develop the skills, mindset and behavior they need to be effective in their professional and personal life.
Since November 2022 I have been President of ICF Ukraine. (ICF Ukraine is the only world-wide chapter that has operated for 14 months in a full-scale war.)  My leadership role today is a great personal and professional challenge.  My professional challenge is to support myself in conditions of high uncertainty, and to be a support for others: for the team, colleagues, and clients in the big projects that we initiate.  As the leader of the professional community, which unites more than 360 coaches, I am responsible in partnership with my colleagues for sustainable growth of organization and the development of coaching profession in Ukraine in the war conditions. The Board members, as well as the members of the chapter, are living now in different countries, so we work remotely from different parts all over the world. We ensure launch of new large-scale coaching projects to support Ukrainian leaders. These projects are important and needed in Ukraine more than ever.
REGISTRATION: