Yes, And! Improve Your Coaching Skills with Improv
December 1, 2021 @ 1:00 pm

-

2:00 pm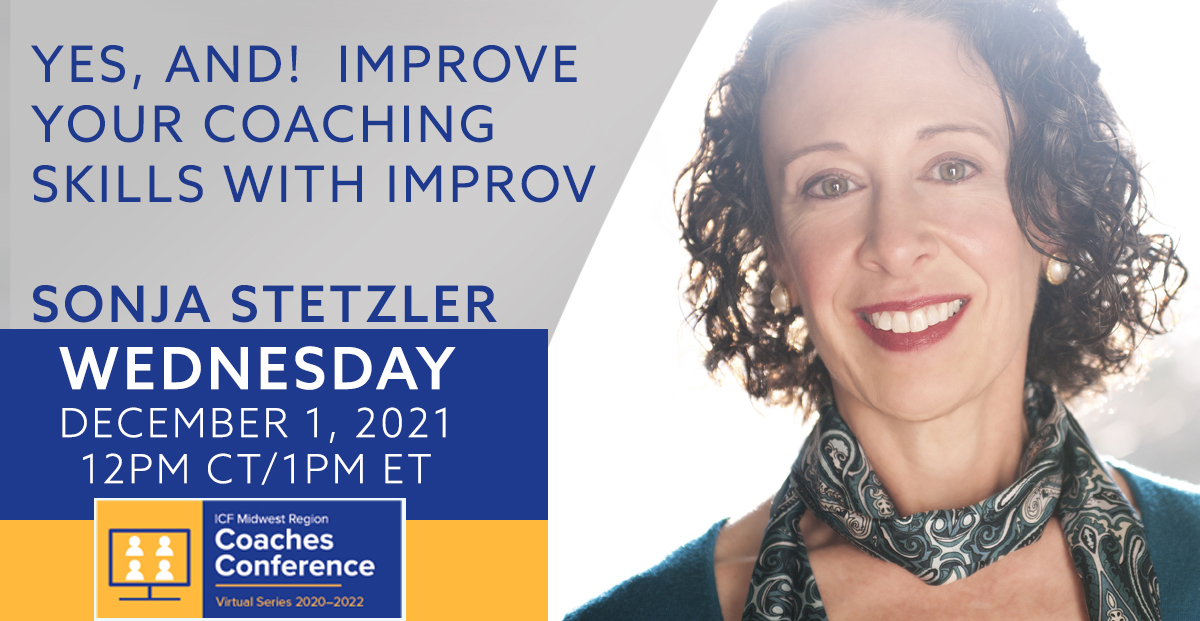 Participants will earn 1 Core Competency CCE for attending this webinar.
Applied Improvisation is defined as the adaptation of improvisational theater principals and training techniques that enable participants to:
* Quickly build trust to connect with others,
* Deepen listening, improve presence, and nonverbal communication skills,
* Create a collaborative work environment, and, * Increase comfort levels with uncertainty and change.
These skills are closely aligned with the coaching skills we need to successfully work with our clients. Based on the work of Lev Vygotsky, a Russian psychologist who believed that "we achieve growth by engaging in group activity with other humans, rather than through an individual, internal process", and Dr. Stuart Brown, medical doctor, psychiatrist, and founder of the National Institute for Play, who said, "during play, we can imagine and experience situations that we have never encountered before and learn from them", there is evidence that applied improvisation has the capacity to improve our relational skills. I recently spent two years researching if applied improvisation could effect the empathetic communication skills of graduate-level dietetic interns. The results of our research concluded that we were able to move the dial in a positive direction in statistically significant ways with regards to the students' empathetic communication skills. Since coaching is all about our ability to connect with our clients through our communication, applied improvisation exercises are vehicles to raise awareness and provide a safe space for experiential learning. And you don't need to be funny to be successful!
By the end of the session, participants will be able to:
1. Demonstrate the skills of "deep listening" – listening to words, tone of voice, body language, and silences as a complete communicative package to increase empathy and effectiveness.
2. Build a collaborative environment using a "yes, and" approach with clients, team members, and staff to foster ideation, problem-solving, and conflict-resolution.
3. Become comfortable and increase acumen in dealing with ambiguity, change, and emotions.
Sonja Stetzler, MA, CPC is the founder of Effective Connecting, providing executive coaching and communications-centered training for mid-to-senior level leaders within business and healthcare organizations. A respected communications and leadership coach and consultant, Sonja's programs teach clients communication tools that positively impact their success and bottom line.
For more information and to register click here.