Integrating Spiritual Connection in Our Coaching Practice
September 1, 2021 @ 1:00 pm

-

2:00 pm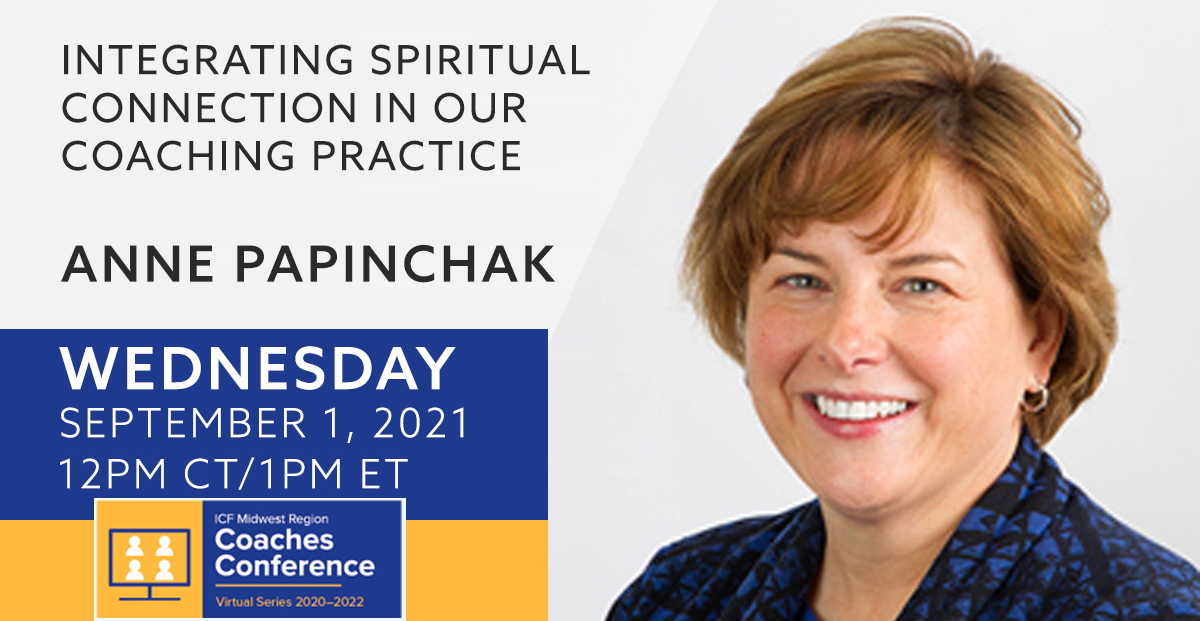 Participants will earn .75 Core Competency and .25 Resource Development CCEs for attending this webinar.
Although we often leverage the "wheel of life" to understand and take a wholistic approach, we often tend to think that spirituality is taboo to bring into your professional coaching relationships. Spiritual connection has been proven to improve health and wellness and often provides clarity and purpose. Having greater awareness and connection to Spirituality, as defined by the client, is a natural and integral part of personal growth. This program will discuss the importance of and share tools to enhance the coaches capacity to explore spirituality when it is presented by the client. The presenter will incorporate several tools/concepts, but rely heavily on the work of Lynn Underwood (given permission) where based on scientific research (World Health Organization) and global practice, Lynn refined a scale and language to help individuals and groups to gain greater awareness of their spiritual connection and it's positive impacts.
As a result of this session, participants will be able to:
Explore building trust and the initial agreement where there is an openness to discussing Spirituality.
Introduce and practice using the Daily Spiritual Experience Scale, developed by Lynn Underwood.
Explain the purpose and use of the 16 questions from the Spiritual Experience Scale for yourself and others.
Discuss and share best practices and concerns regarding the use of the tool with clients to deepen awareness of Spiritual Connection.
Choose to support your client when she/he wants to explore spiritual connection and do it with more confidence, inclusion and respect.
Anne M. Papinchak, M.ED., PCC is an executive leadership coach, Anne focuses on building strong cultures, leaders and teams. She has over 20 years of working with executive leadership to assess, select, develop and implement cross-company strategic initiatives and teams to create the capacity to achieve business results. Anne is a Past President of ICF Pittsburgh and served as the Chair for the 2018 Midwest Region Coaches Conference.
For more information and to register click here.