Four Transformational Presence Leadership and Coaching Tools You Don't Want to be Without
March 2, 2022 @ 1:00 pm

-

2:30 pm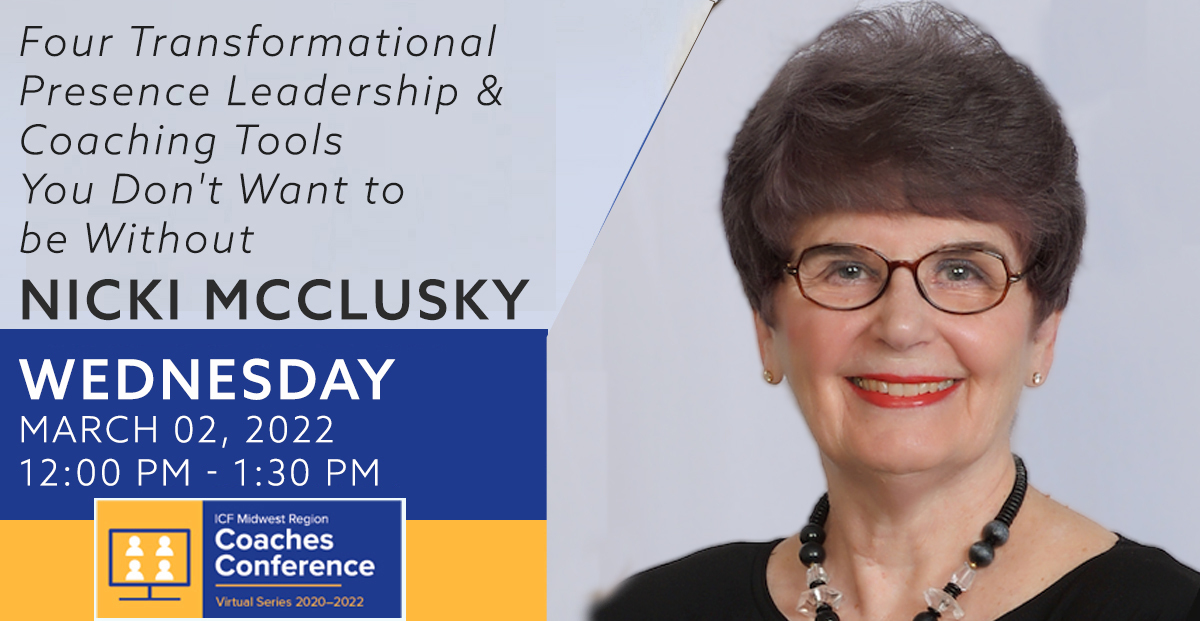 Participants will earn 1 Core Competency and .5 Resource Development CCEs for attending this webinar.
"Transformational Presence Leadership and Coaching Tools You Don't Want to be Without" is a virtual workshop designed to empower coaches and leaders to deepen their competencies; it will improve presence, listening, awareness, taking action, communication, and trust. TPLC is an innovative approach to coaching and leadership in that it's focus is on energy and transformation, watching for the potential that wants to emerge. Since everything is energy in motion, we work with the tools and the client's energy so s/he can resolve conflicts, get unstuck, and confidently move forward in uplifting and dynamic ways. After briefly describing the essence of TPLC in the 'virtual workshop,' Nicki will introduce four TPLC tools; coaches will pair off in twos to practice three of the four tools after they're presented.  The fourth tool will be given to you in the slides.
Participants will:
develop a new perspective about working with their clients' energies while noticing any potential that wants to emerge.
learn how to navigate through the four ways people engage, coaching toward choice and opportunity vs.  drama and situation.
learn to promote dialogue between conflicting voices in a client by using the Three Intelligences.
know more about and utilize the two orientations we have in life—Soul and Ego—and how they can  partner effectively.
be introduced to the "Deep Simple" tool Alan Seale developed to sift down quickly to the essence of an  issue, asking what role it wants the person to play, and what they can do today to make an important shift start to happen.
Nicki McClusky specializes in helping "Those who help others"—especially coaches, consultants, healers, and nonprofit executives—to manifest their full potential and create the profound shifts they want to make in their own lives, their careers, and in their relationships. Nicki is the author of 15 books, including You Have A Self, The Joy Factor, Find Your Voice:  An Introduction to Vocal Basics and the Voice of Your Soul, and recently, How to Stop Being Too Hard on Yourself.  She has delivered webinars on Self-Talk, Energy Transformation and Transformational Presence to ICF chapters all over the globe.
For more information and to register click here.